Light Gauge Steel Framing is the modern building technology widely used in the developed countries. TEK Engineering Services Light Gauge Steel Frame building systems have been introduced in Pakistan using latest design software, which have the capability to design even multi story buildings in light gauge steel framing..
Light Gauge Metal Framing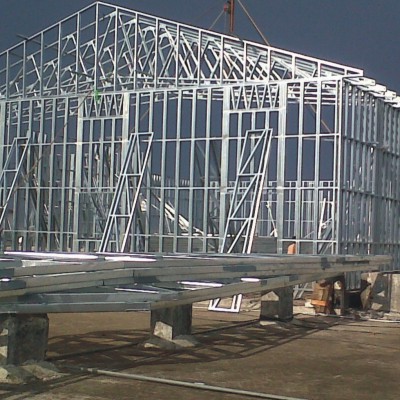 ---
This highly insulated, aesthetically beautiful & extremely light weight building design is ideal option for roof top construction or for adding building on top floors. This is also suitable for vertical extension of buildings where civil construction is not possible due to existing structure design limitations.
Light Gauge Metal Framing consists of thin sheet metal formed into shapes that can be used for wall studs, floor joists, roof rafters and truss members.  Light Gage Metal Framing is most commonly used for the construction of interior and exterior walls of commercial buildings.  Insulation, electric and plumbing can be easily installed within the floor and wall assembly with sheathing being applied directly to each face of the members.  Light Gauge Metal Framing can be utilized as a load supporting system typical of wood construction…
We are proposing you the unlimited opportunities that steel frame have to offer,
As the most developing and successful building technique on the market we are offering you the services of building steel frame homes in Cyprus, weather you need an extension to your existing house, a new office, shop or a new permanent home
– steel frame structures is the answer.
– A steel frame is stronger than wood
– Your steel framed home is safer in earthquakes
– Steel is unaffected by changes in the weather
– Steel doesn't fuel a fire…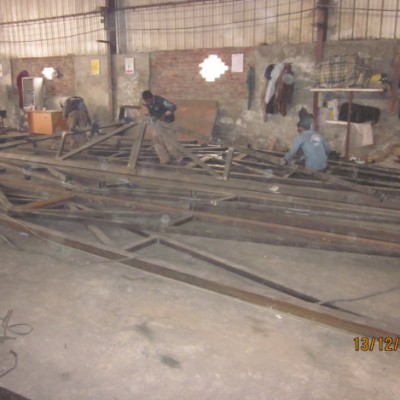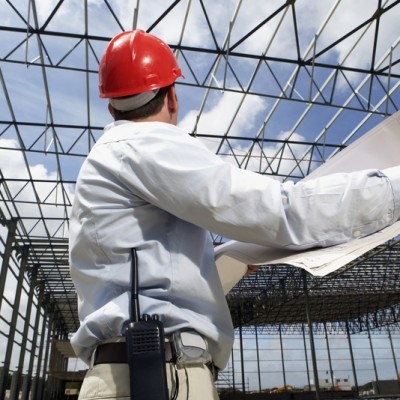 Light Gauge Steel Frames (LGSF) can be used to replace the traditional brick and concrete construction. It has truly achieved the objectives of standardized design, unified factory production and mechanized construction. All of these can greatly reduce the labour intensity and shorten the construction period. LGSF structure has its apparent advantages on architectural forms, structural integrity, combined economic advantages, and environmental consideration over conventional construction system. Hot dipped galvanized, high tensile steel is cold formed to customized sigma profile for various studs and framing tracks along with purlins, joists and trusses. Octamec manufactures and installs LGSF Wall Panel Assembly & Roof Truss as per design requirements. Nano Housing aims to offer hygienic, safer & quicker cutting edge Construction Technologies for humanity.
In many big cities, housing societies are restricted by the regulating government departments from constructing upper floors but LGSF building is still accepted and allowed due to its unmatched light weight advantage. In the by-laws of most regulating authorities it is treated as temporary structure so happily permitted.
Advantages
Structural steel's low cost, strength, durability, design flexibility, adaptability and recyclability make it the material of choice for a growing n umber of construction-related businesses.
Cost Efficient And Quick to Build
With factory made accurate steel frame components, construction is quick thereby optimizing labour requirement.
Environment Friendly
Steel delivers a number of unique environmental benefits such as product longevity, recyclability, easy transportation and less raw material wastage.
Durable And Safe
Steel won't ignite or burn and termites can't eat it. Steel doesn't have to be treated with pesticides, preservatives or glues. Also, floors and walls are not susceptible to moisture build-up.
Design Flexibility
Steel offers architectural and design flexibility due to its inherent strength, which allows it to span greater distances than wood

Environment Friendly
Recyclability
Much of the steel used to make light gauge steel framing is recycled.
When a steel frame building is demolished, the steel can be recycled.
It takes approximately one-quarter of an acre of mature trees to produce the wood framing for a typical house. The same house can be steel framed from three or four old cars.
Steel can be recycled indefinitely without losing any of its qualities.
When steel buildings are no longer required in their current location, they can be dismantled and re-erected elsewhere.
TEK Engineering Services Design For:
Hostel building
Residence Building.
Additional floor on the terrace.
Roof-Top room or office.
A cottage in a farm house or a hill area.
Office inside a warehouse or factory, Retail outlet, Guard room.
Internal partition walls inside an orthodox brick and concrete building.
Office Building, Residential Societies, Rehabilitation Camps
Integrated Building design based on specific customer requirement.